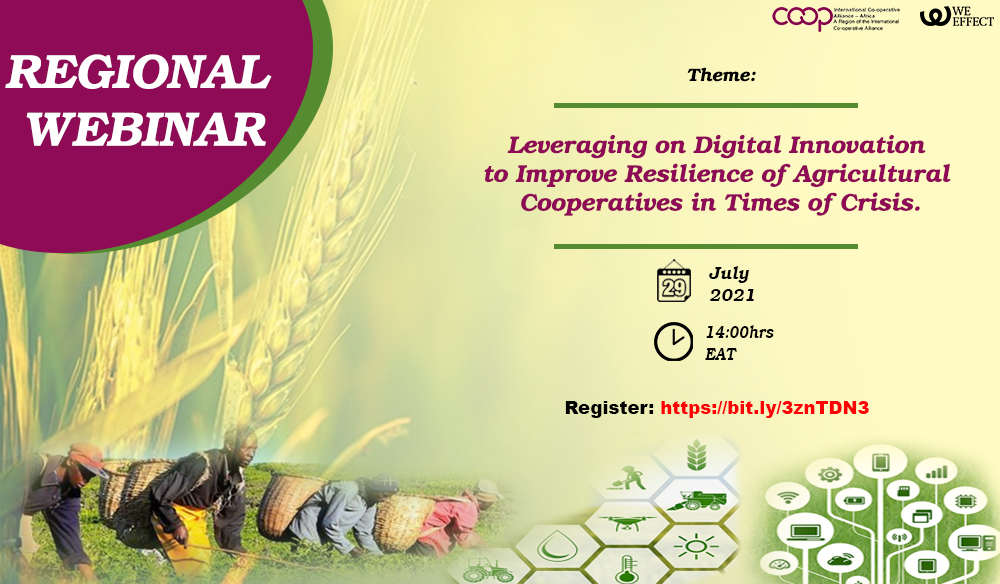 In its annual activities, ICA-Africa has organised for a regional webinar on, 'Leveraging Digital Innovation to Improve Resilience of Agricultural Cooperatives in Times of Crisis.' The webinar will be held on 29th July 2021 virtually.

The global objective of the webinar is to bring government officials, cooperative leaders and other stakeholders in the forum to deliberate on some of the strategies agricultural cooperatives can use to expedite digital innovation, especially during times of crisis. The webinar will bring in both global and regional perspectives and practical cases that have been tested and successfully implemented to foster agricultural growth and development in a more innovative way.

The webinar is free to participate.
After registering, you will receive a confirmation email with the webinar joining details.
Read more from the CONCEPT NOTE
Due to the prevailing COVID-19 situation, we encourage our events sponsors to consider transferring their support to this webinar sponsorship. We urge you to continue supporting ICA-Africa activities, raise your brand awareness and recognition in the marketplace through our suitable sponsorship package.
Thank you.
Kind regards,
For; The Regional Director
Dr. Chiyoge B. Sifa
(Mrs.)
---